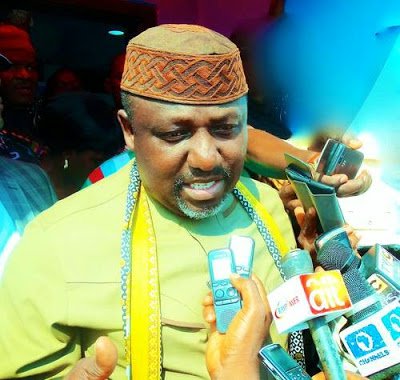 The Imo State Governor, Rochas Okorocha has revealed who he is willing support for the state's number one seat come 2019.
Okorocha said if Chief Uche Nwosu comes out to contest the 2019 governorship election in the State, he would support him.
Nwosu is the current Chief of Staff Government House and an ardent apostle of the Rescue Mission Government in the State.
Okorocha said this when the officials of the All Progressives Congress, APC, and leaders from Owerri Municipal Council visited him on Monday, at the Government House to urge him to encourage and support Chief Nwosu for the governorship of the State in 2019.
He stated, "Uche Nwosu is hardworking, and never gets tired. He is a very humble young man.
"Not proud. Not arrogant. So, Power won't enter his head. Inspite of the position he occupies you can't see him quarreling with anybody or maltreating anybody.
"He does not segregate against anybody whether from Orlu or Owerri or Okigwe zone. He relates with people enviously. I have checked him in and out, I have not found him wanting.
"What the State wants is Imo governor and not Owerri Zone or Orlu Zone or Okigwe Zone governor. Zoning does not put food on the table of anybody. The young man is a team player, who does not use his office to molest anybody. He has the qualities of a good leader. If he says he will run for governor, I will support him.
"Obviously it might be as a result of these qualities that most people are talking about Uche Nwosu for governor everywhere even when he has not declared for the governorship. It might also be the reason for the endorsements he is getting from all quarters.
"You see, you don't hide a good product. And the joy of every leader is to have a worthy successor. You don't mind political opportunists. We have done very well as a government and we should be concerned about what happens to the achievements after.
"I am not from Owerri zone, but my administration has done more projects in Owerri zone and Owerri Municipal in particular more that the administrations before me had done put together.
"We need Imo governor and not a zonal governor. I have done in Okigwe zone what the man from the zone could not do for them. The records are there."