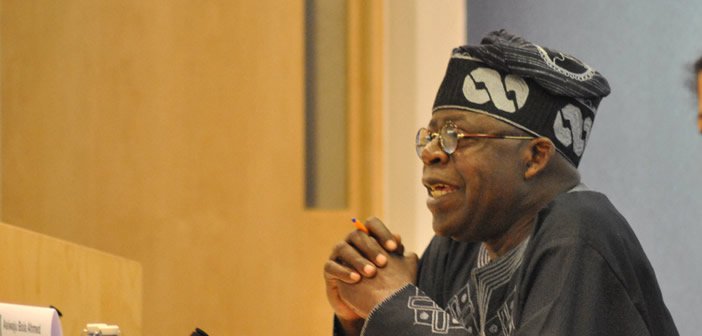 A National Leader of the All Progressives Congress (APC), Bola Tinubu, has described his appointment by President Muhammadu Buhari as head of the APC reconciliation committee as a very strong political challenge.
President Buhari had last week appointed Tinubu to lead the APC committee that would reconcile aggrieved members of the party.
Tinubu said this in an interview with State
House correspondents on Tuesday after he and a chieftain of the APC, Bisi Akande, met behind closed-doors with President Buhari.
Asked how he felt about the assignment, Tinubu responded thus: "Well, l feel greatly honoured with the mutual confidence that the president has reposed in me which is a very strong political challenge. We have started in earnest. He has given me free hand to put coercion, confidence and trust in the party.
"Democracy is about conflict resolution process. You can't do it without resolving conflicts. We can't build it without understanding the conflicts and sources where we are coming from. But we want to leave the country with a legacy. It's not about Mr. President. That is what he's telling the country. It's about our country, and no other choice to democratic tenets than through political party platforms.
"He (Buhari) is one of those rare beings around the country, around Africa who had experienced both worlds: he fought a battle to save Nigeria and came to politics to save Nigeria. Very rare people have such an opportunity in their lives time and that's what we talk about; legacy. And where we have all the challenges, do what we should do. I'm enjoying the challenges so far."
The APC national leader said the party had a better chance to win the 2019 general elections which, he assured, would be conducted in a most transparent and democratic manner.
Asked what the chances of the APC are in 2019, Tinubu exclaimed: "You are asking me an obvious question! I belong to this party. My commitment is to this party. We have a better chance and we are strongly determined to prosecute election in a most transparent and democratic manner and we will win."