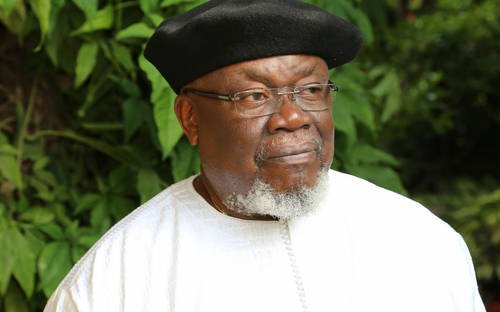 A former Minister of External Affairs and a foundation member of the ruling All Progressives Congress, Chief Tom Ikimi, has stated that the ruling party has been hijacked by incompetent people.
He said the development was the reason the party has been experiencing crisis, resulting in the defection of aggrieved members to other political parties.
Ikimi, who is now a chieftain of the opposition Peoples Democratic Party, added that those who hijacked the APC failed to manage its affairs, leading to the "demise of the party."
Ikimi spoke in Abuja on Monday during the inauguration of four committees by the Coalition of United Political Parties to solidify the agreement signed by the 39-member coalition.
Ikimi is the chairman of the 23-member committee on Blueprint and Manifesto, which includes a former Governor of Niger State, Babaginda Aliyu; a former President of the Nigerian Bar Association, Dr Olisa Agbakoba (SAN), and a former Minister of Power and Steal, Mr Olu Agunloye.
Speaking to reporters after the inauguration of the committees, Ikimi said, "I was involved in the merger arrangement that produced the APC; unfortunately, some people who hijacked the arrangement could not manage it and that is why we are seeing the demise of the APC now."
Ikimi said he was pleased that since the formation of the coalition, members had been "waxing stronger and stronger."
"Not even one of the members has left the coalition and every time we meet, we are building our strength.
"Today, we have witnessed the inauguration of four very important committees of this coalition and its membership is drawn among all the 39 political parties.
"I am pleased to serve as the Chairman of the Blueprint and Manifesto Committee, which, indeed, will be that document that we will present to Nigerians that will contain all the things we will want to do for Nigerians in the next administration."
In his opening remark, the Chairman of the Coalition Steering Committee, Prince Olagunsoye Oyinlola, said the inauguration represented another phase of the struggle to wrest power from the APC.
He said, "The country cries for revival. We must not and still not abandon Nigeria in the hands of the current officials who have convinced everyone that they are incompetent and incapable of driving Nigeria to prosperity."