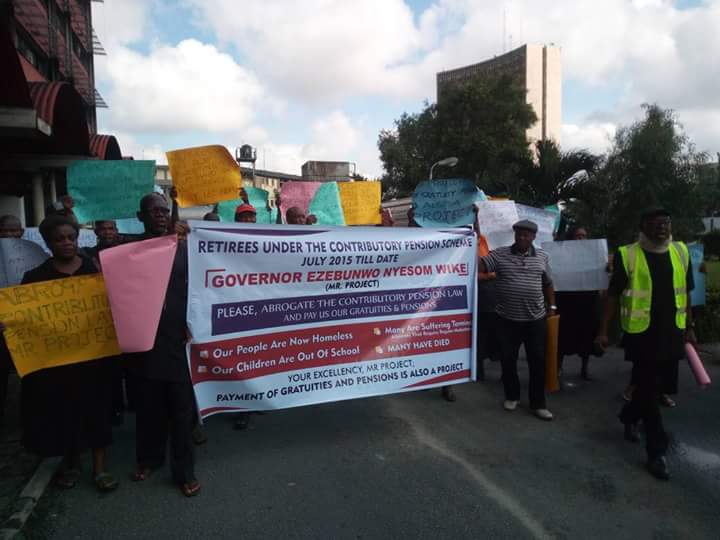 Retired civil servants in Rivers State have taken to the streets of Port Harcourt to protest unpaid three years gratuity and pension owed them.
The protesters had placards with inscriptions like; "If you are Mr Project, Know that Retired civic servants are major project", "Mr Project Pay us our Pension because our people are homeless and our children are out of school", "We are dying."
The protesters, who were chanting anti government songs, demanded for the payment of their three years gratuity and pension, just as they asked for the removal of contributory pension law.
The leader of the protesters, Lucky Atti, at the office of the Rivers State Head of Service demanded the abrogation of the Contributory Pension Law, which he claimed was the cause of the hardship of pensioners.
Atti said majority of pensioners had been suffering from different forms of terminal ailment in the past three years.
"It is not a curse to be a retired civil servant in Rivers State. It not a crime. Many of us have served for as much as 33years and here we are with nothing.
"We can no longer fend for our families. The Governor should do something about this before we all die of hunger and sicknesses.
"We have written to Governor Nyesom Wike on several occasions. We have even met with stakeholders, including the religious leaders, to help us talk to him but all to no avail. We have been on this for the past 3years," he said.
Addressing the pensioners, Rivers State Head of Service, Rufus Godwins blamed the past administration of former Governor Rotimi Amaechi for the backlog of pension allowances.
According to Godwins, "These allowances are owed by the past administration. The past administration did not remit the deduction of pensions to the pensioners' agents. But I will take your case to the Governor".