Trump 'fully prepared' to use military force against Turkey to protect Kurds in Syria
Donald Trump is "fully prepared" to use military force if "needed" against Turkey after Ankara launched an offensive against America's allies in Syria.
"We prefer peace to war," Secretary of State Mike Pompeo told CNBC.
"But in the event that kinetic action or military action is needed, you should know that President Trump is fully prepared to undertake that action."
He declined to say where Mr Trump's red line would be to prompt a US military response, and the State Department refused to comment.
The comments from the president's top diplomat came as skirmishes between Turkish and Kurdish forces continued despite a five-day ceasefire brokered by the US, which is due to end on Tuesday.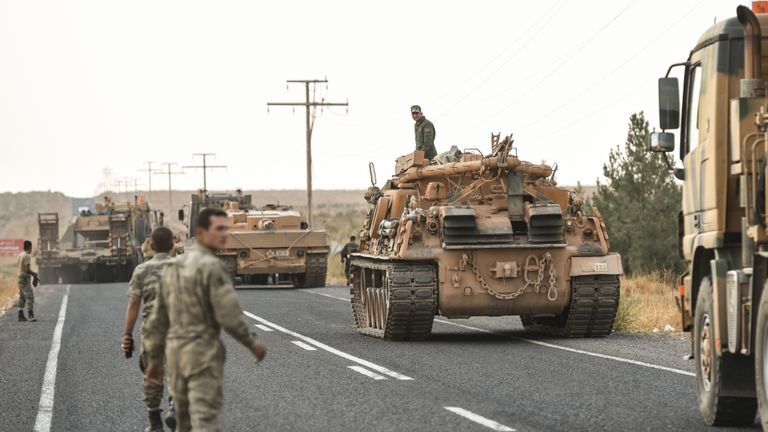 Mr Trump said the ceasefire was holding, dismissing the clashes.
The president has been criticised by Democrats and Republicans for suddenly announcing he was withdrawing US troops from Syria, leaving their allies, the Kurds, to fend off Turkey who sees them as being linked to terrorists.
On Monday he announced not all troops would be leaving straight away, despite saying he did not want to leave any in Syria.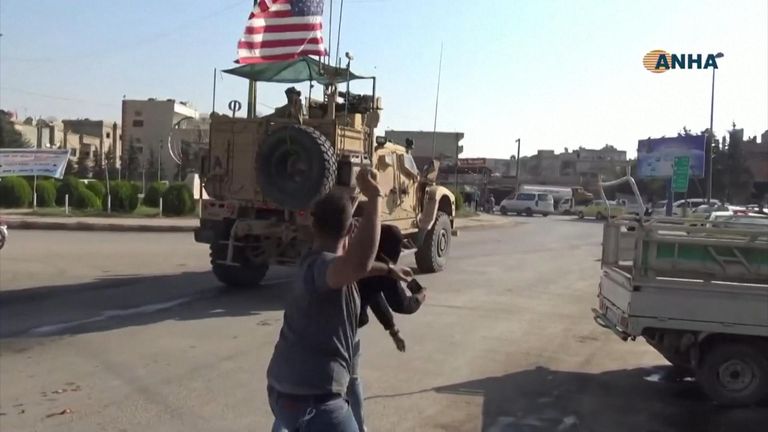 He said some troops would remain in the country and others currently in Syria would be redeployed to Iraq instead of going home.
Speaking at a meeting with his cabinet, Mr Trump said: "We never agreed to protect the Kurds for the rest of their lives."
He added that he was achieving a campaign promise to disengage from international conflicts as he looks ahead to next year's election.
The president said a small number of US troops would stay "in a little different section to secure the oil," as well as in "a totally different section of Syria near Jordan and close to Israel".
"That's a totally different mindset," he said.
"Other than that, there's no reason for US troops to remain. They're going to be sent initially to different parts.
"Ultimately, we're bringing them home."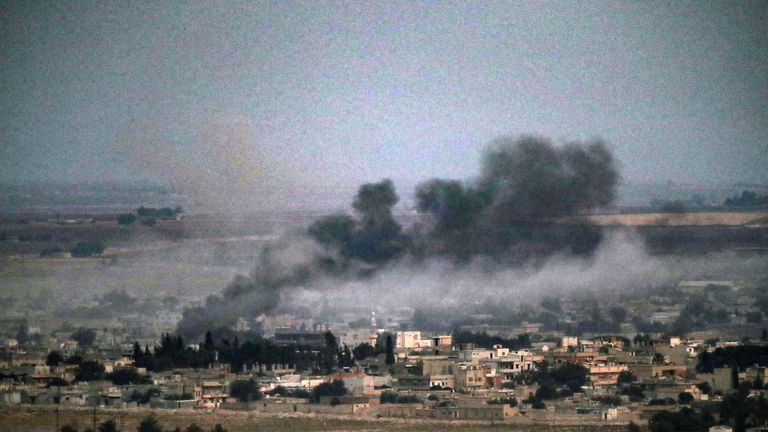 He added that Israel and Jordan asked him to keep some troops in Syria.
US defence secretary Mark Esper said the Pentagon was considering keeping some US troops near oilfields in northeastern Syria alongside Kurdish-led Syrian Democratic Forces (SDF) to ensure Islamic State (IS) militants cannot get to the oil.
As the ceasefire comes to an end, Germany suggested a security zone in northern Syria was created to protect displaced civilians and ensure the fight against IS insurgents continues.
German defence minister Annegret Kramp-Karrenbauer said the zone should involve Turkey and Russia to protect at least 160,000 Syrian Kurds who the UN says have fled their homes since the Turkish assault started.
It is the first time the German government has proposed a military mission in the Middle East, with Berlin expected to send soldiers to Syria if it is backed by Turkey and Russia, who see the Kurds as enemies.
Evo Morales: Bolivia's president quits over electoral fraud claims

Bolivian President Evo Morales has resigned amid deepening unrest over allegations of electoral fraud.
The announcement came after the country's military chief went on TV on Sunday to call for him to step down.
Mr Morales has endured weeks of anti-government protests since his election victory last month was called into question, with the Organization of American States later discovering "clear manipulation" at the polls.
Concerns were initially raised about a day-long gap in reporting results from the poll, just before a spike in votes for Mr Morales.
Mr Morales, who came to power in 2006, had promised a fresh election.
In his TV appeal, General Williams Kaliman said: "After analysing the situation of internal conflict, we ask the president to resign, allowing peace to be restored and stability to be maintained for the good of our Bolivia."
He also urged Bolivians not to resort to violence.
India's top court awards disputed holy site in Ayodhya to Hindus | World News
India's top court has awarded a disputed religious site to Hindus – rejecting a rival Muslim claim.
The verdict threatens to heighten tensions between the two communities, which have been embroiled in a bitter dispute over the land – with deadly riots ensuing.
The unanimous ruling paves the way for the building of a Hindu temple on the site in the northern town of Ayodhya, a move long supported by Prime Minister Narendra Modi's ruling Hindu-nationalist party.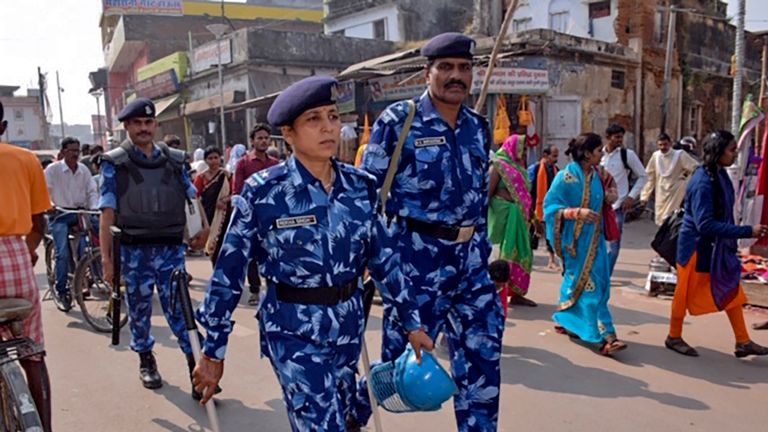 It will be seen as a political victory for Mr Modi, who won a second term in a landslide general election win this year.
The row over ownership has been one of the country's most contentious issues.
Hindus believe the three-acre plot of land – which is about the size of a football pitch – was the birthplace of Lord Ram, a physical incarnation of the Hindu god Vishnu.
They argue the site was holy for Hindus long before the Muslim Mughals, India's most prominent Islamic rulers, built what was known as the Babri mosque there in 1528.
The mosque was destroyed by a Hindu mob in 1992, triggering religious riots in which about 2,000 people, most of them Muslim, were killed across the country.
It also led to a series of court battles with various groups staking claim to the site.
The Honourable Supreme Court has given its verdict on the Ayodhya issue. This verdict shouldn't be seen as a win or loss for anybody.

Be it Ram Bhakti or Rahim Bhakti, it is imperative that we strengthen the spirit of Rashtra Bhakti.

May peace and harmony prevail!

— Narendra Modi (@narendramodi) November 9, 2019
India's supreme court directed that an alternate parcel of land be provided to a Muslim group that had staked a claim to the disputed site.
The land has been heavily protected since the 1992 religious clashes.
Ahead of the ruling, security was tightened in Ayodhya and across India, especially in cities that have been the scene of communal violence previously.
In some regions, restrictions were placed on gatherings and police were monitoring social media to curb rumours that could inflame community tensions.
In some towns, internet services were also suspended, while schools and colleges have been closed until Monday.
In a series of tweets last night, Mr Modi said: "Whatever decision of the supreme court will come on Ayodhya, it will not be a victory or defeat for anyone.
"My appeal to the countrymen is that it should be the priority of all of us that this decision should further strengthen the great tradition of peace, unity and goodwill of India."
Hindu supporters and activists celebrated the ruling on the court lawns, blowing bugles and chanting "Jai Shree Ram", or hailing the god Ram.
A lawyer representing the Muslims deplored the ruling.
"We are not satisfied with the verdict and it's not up to our expectation," said Zafaryab Jilani, who is representing the Muslim community group.
He hinted at filing a review petition in the supreme court challenging Saturday's verdict. At the same time, he appealed to members of all communities to maintain peace.
Vishnu Shankar Jain, an attorney who represented the Hindu community, said it had been a struggle.
"It was a huge legal battle and we are happy that we convinced the supreme court. It's a historic moment for Hindus," he said.
Raj Nath Singh, India's defence minister, appealed to people to "accept the court verdict and maintain peace".
In Islamabad, Pakistan's foreign minister, Shah Mahmood Qureshi, criticised the verdict, saying it was indicative of the "hate-based mindset" of Mr Modi's government.
"This is nothing but Modi's government continued policies of cultivating seeds of hatred and promoting differences between the communities and religious segments of the population to achieve its designs," he said.
Syria: Death of Kurd in protest against Turkish 'invaders' is 'significant moment'
Sermisaxa Jor is a tiny, ethnically Kurdish village in the far northeast of Syria.
For the people who live there, today will be remembered as the moment that Syria's bloody, decade-long and multi-faceted war came to them.
In the context of the war itself, what happened in Sermisaxa Jor is not comparable: one young man died; run over by a Turkish military vehicle.
But in the context of where the war goes next, it's a significant moment.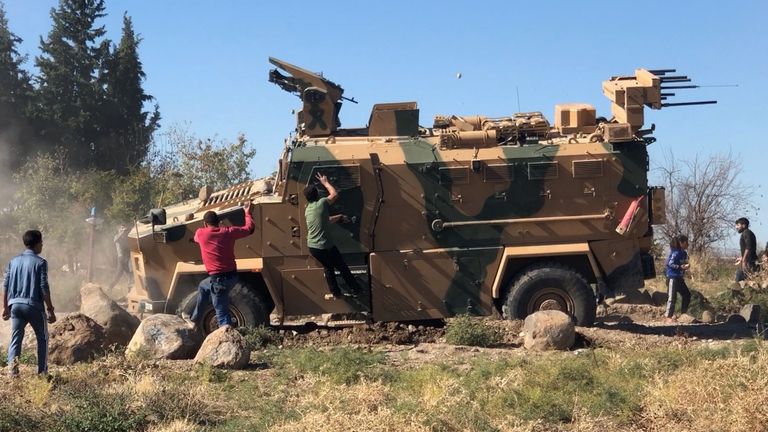 Sarkhbon Bankin Ali, 26, was killed as he and scores of his fellow villagers – men, women and children – threw rocks at a convoy of Turkish and Russian military vehicles passing through.
The convoy was part of the Turkish plan to create a 'safe zone' along the border area between Turkey and Syria.
The villagers see them as invaders who want to push them, as Kurds, out of their homes.
The evidence since the Turkish incursion of this area began a month ago would suggest they are right.
In towns across this predominantly Kurdish part of Syria, the people have fled as the Turkish army, with Russian support, has moved in.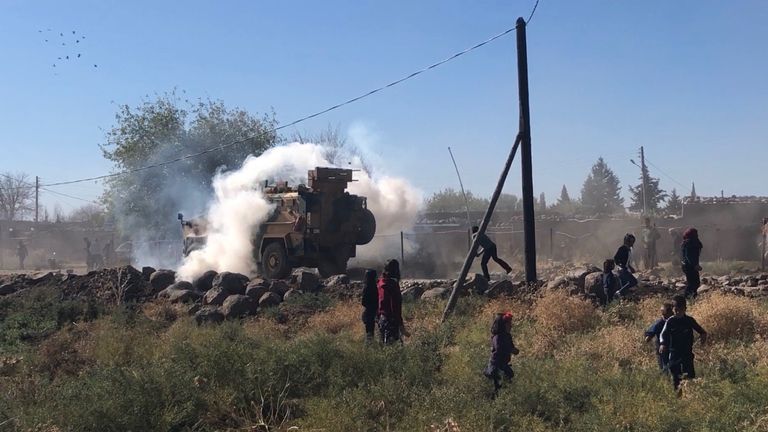 Here in Sermisaxa Jor, they are not moving them out yet. But the villagers are sure that will come.
And so, with remarkable force, they pelted the convoy with rocks.
We watched as they clambered on top of the heavily armoured vehicles. They ripped off the wing mirrors.
This, they feel, is the only way they can defend their land.
Sarkhbon Bankin Ali was one of the angry young men. He hung off the right hand side of one vehicle and then jumped off as it moved.
He fell under the back wheel. He would never have survived.
We watched as his friends hauled him into the back of a pickup. He was taken to the nearest hospital but didn't make it.
The soldiers driving the vehicle didn't intend to hit him. They probably don't even know his fate.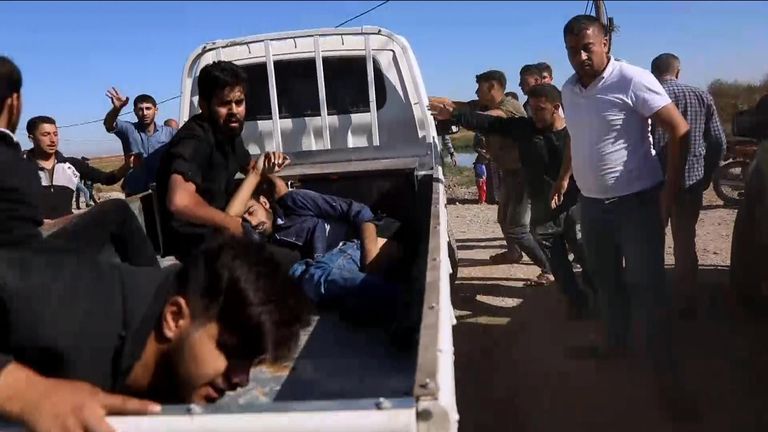 At close range, its effect is temporary but still awful.
At least 10 people were taken to the hospital.
"Where's the international community? Where's the humanity," one villager shouted to me.
"There's no way we will let this to happen. We will not allow Turkey to enter our village. We won't allow the Turkish military to enter our village."
Near him, an elderly women sat in a heap, sobbing.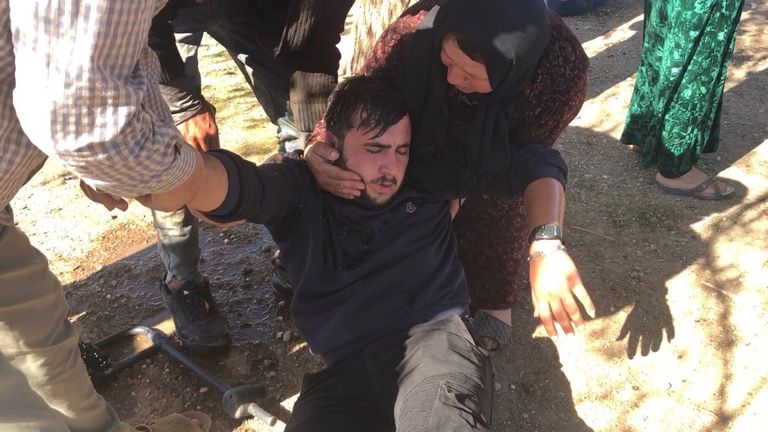 The people here believe they will be the next to be moved out to join the thousands of their own already in Iraqi refugee camps across the border.
We followed the convoy as it passed though a dozen or so villages.
Locals were following too, on motorbikes and in cars, lobbing rocks when they could.
The Turkish objective of this patrol and others like it across the area is to make their presence felt across a wide strip of Kurdish land along the border.
They call it a safe zone. Their only target, they claim, are the Kurdish militia fighters who control this area.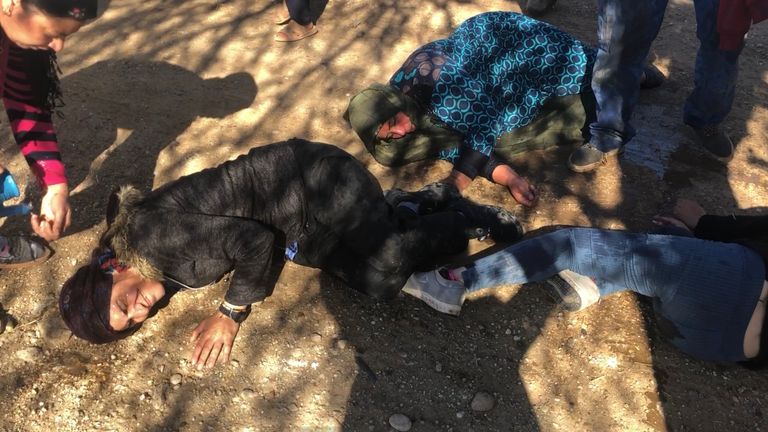 And while western governments agree about the PKK's terror links, they do not see the Syrian Kurdish militias as terrorists.
On the contrary, the Syrian Democratic Forces and YPG who make up the Kurdish militia have been the key fighting element of the western coalition fight to defeat the Islamic State in Syria.
But this isn't just a case of civilians being caught in the middle. The Turkish government is being accused of actively forcing the civilians out too.
Even by the assessment of the top American diplomat in the region, the Turkish incursion is actually part of a quiet systematic ethnic cleaning of the region to remove the Kurds whose home this is.
:: Listen to the Daily podcast on Apple Podcasts, Google Podcasts, Spotify, Spreaker
In a memo leaked to the New York Times this week, William Roebuck wrote: "Turkey's military operation in northern Syria, spearheaded by armed Islamist groups on its payroll, represents an intentioned-laced effort at ethnic cleansing."
He continued: "One day when the diplomatic history is written, people will wonder what happened here and why officials didn't do more to stop it or at least speak out more forcefully to blame Turkey for its behaviour.
"An unprovoked military operation that has killed some 200 civilians, left well over 100,000 people (and counting) newly displaced and homeless because of its military operation."
Not far from where Sarkhbon Bankin Ali died, we came across an American military convoy.
The US troops are still here, despite all President Donald Trump's talk of them leaving.
But their orders now are to protect the oil, not the Kurds.