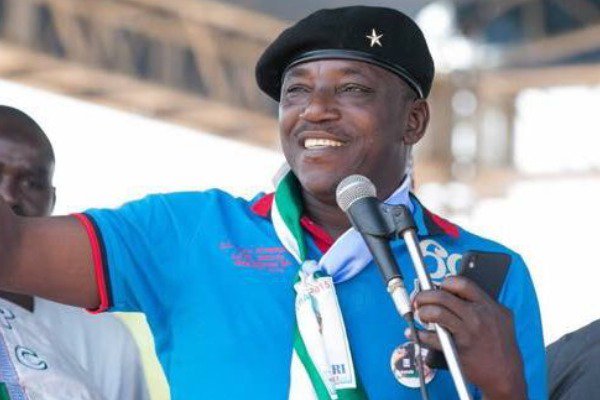 Minister of Youth and Sports Development, Solomon Dalung has urged youth to rise above all limitations and confront the 2019 general elections with optimism.
He said Nigerian youths should not limit themselves to voting in next year's election but also declare for elective offices.
Dalung stated this during weekend while speaking to newsmen in New York.
He said: "The Nigerian Youth Movement was set up by a young person – Herbert Macaulay. Our founding fathers, when they were agitating for independence, they were young people.
"Considerably, after independence and during the military rule, we had young people who led this country and their impact was felt.
"Now if the Nigerian youth place themselves within this background, they must also be prepared to confront 2019 with optimism.
"Their participation should not only be limited to voting but they should be seen to be involved in declaring interest in offices that are within the reach and the size of their pocket".
He noted, however, that politics in Nigeria was a capital-intensive project adding, if young people are seen to be active in it, definitely it is going to send a signal that they are "prepared, ready and willing" to occupy the political space.
"And to our leaders, I want to urge them that we must create political space to accommodate youth leadership.
"We need them, they have the strength, they have the energy, they have the innovations to be able to drive this country to greatness," he said.
Dalung urged the youth to resist the temptation of being used, whether as political mercenaries or in facilitating electoral fraud.
He said: "2019 is going to be a political breakthrough for Nigeria. It is a milestone because it's going to end an era of a prolonged leadership of the advanced generation.
"And it will open a new page of engagement for young people. So youth in Nigeria should not allow 2019 to pass them by".
The youth and sports minister, however, said a Nigerian youth President in 2019 may be relatively difficult because of the political system we have in place.
He argued that the 1999-constitutional democracy bestowed on Nigeria by the military appeared to be shrouded with a lot of booby traps that seemed not to project a very good vision of the younger generation.
"Therefore, in 2019, we would still need to have the sustenance of this foundation-laying leadership for the young people to take over because our foundation had been basically fractured.
"Infrastructure in Nigeria is in dilapidated form, our economy is just picking up, the national security is gradually coming out of prolonged insurgency. We need to consolidate on these in 2019 for a stable leadership."