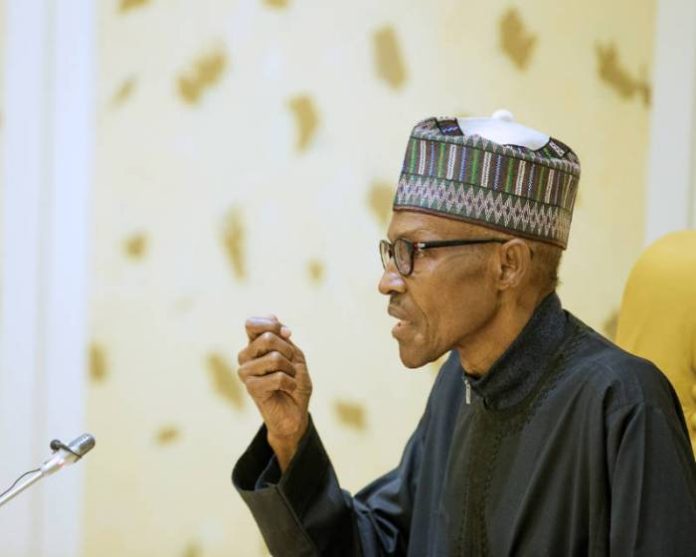 President Muhammadu Buhari, on Wednesday, lamented that some persons opposed to his government were spreading false accusations aimed at painting a picture that he hates Igbo people.
The president also said that the aim of the purveyors of the 'lies' was simply to pitch the Igbo against him.
The President expressed said this at the residence of the National Coordinator of Buhari/Osinbajo Initiative for Demonstrating Change, Comrade Chinedu Ogah, in Ikwo, Ebonyi State, during the latter's empowerment programme for his people under his foundation, Chinedu Ogah Foundation.
President Buhari, represented by the Executive Director, Administrration and Training of the Nigeria Television Authority (NTA), Dr. Steve Egbo, said that contrary to "these lies", he loves the Igbo and would continue to work to protect their interests.
In the words of Egbo, "He (President Buhari) asked me to tell you that he loves Ebonyi State and the people of the South East as a whole. He asked me to tell you that he is a friend to the Igbo people. He asked me to tell you that all these accusations, insinuations, permutations and bombards are all lies calculated to create a bad feeling between him and Igbo people.
"He asked me to assure you that from the beginning that he has been a friend to the people of the South East and would remain your friend to the end," he added.
Running down memory lane, President Buhari said that he had at different fora shown his readiness to truly reconcile with Igbo people whose millions of kinsmen died in the 1967/1970 Nigeria-Biafra civil war but his approaches were rebuffed by the Igbo.
Egbo continued, "During the course of our discussion, he took us down the memory lane which many people do not know. In 2002 when he made up his mind to join partisan politics, he invited Chief Emeka Odumegwu Ojukwu to his hometown in Daura and they spent several days together and talked about the problems of Nigeria with a view to finding solution.
"At the end of that visit, he took Ojukwu to the home of the late Saduana of Sokoto, Ahmadu Bello. This is the highest act of reconciliation. Those of you who are informed, will know what Sir Ahmadu Bello represents in the politics of Northern Nigeria and the country as a whole.
"In 2003, Buhari picked an Igbo man, the Late Chief Chuba Okadigbo, as his running mate. If he hated the Igbo the way we are being told today, I don't think he would have picked an Igbo man. But our people refused to vote for him.
"In 2007, Buhari picked another Igbo man, Edwin Umezueokwu, our people again refused to vote for him. In 2011, he came back to pick another Igbo man as his running mate, but they told him sorry sir, we are in bed with (Goodluck) Jonathan and the PDP; that we have no time for you. That was why he went elsewhere to pick somebody else.
"In 2015, we all know how it went. Our people carried their eggs in one basket and it crashed. But instead of our leaders: governors, senators, ministers and others coming out to tell us the truth, they decided to deceive all of us. But we know the truth.
"Buhari loves the Igbo and he has continued to work to protect their interest. For example, in 1999, 2003, 2007, and 2011, they promised that they would build the Second Niger Bridge but failed. In 2015 when Buhari came to power, we went there and discovered that there was no single trip of sand there. Right now, work is going on in the Second Niger Bridge" he narrated.
Meanwhile, Ogah said that the empowerment programme which no fewer than 1,000 persons benefit from was targeted at alleviating the plights of his people.
AD:
To get thousands of free final year project topics and materials sorted by subject to help with your research
[click here]