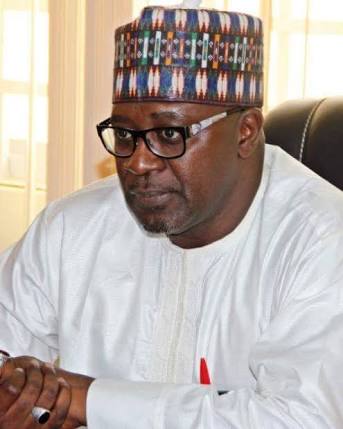 President Muhammadu Buhari's appointee, Modibbo Kawu, the Director-General of National Broadcasting Commission (NBC) is enmeshed in what has been termed hate speech against Senate President Bukola Saraki.
Saraki, governors of Benue, Kwara and Sokoto recently announced their defection from the APC to the opposition Peoples Democratic Party (PDP).
Earlier, some members of the National Assembly defected from the APC to other parties.
Kawu, in a WhatsApp group of northern editors and intellectuals after the defections, lambasted the former Kwara governor.
The NBC chief in the chat seen by Premium Times, said: "It is not the "natural" human condition to continuously vote for a kleptocratic hegemony such as Saraki has imposed on our dear Kwara State".
"Bukola Saraki's hegemony has been responsible for a systematic underdevelopment of Kwara; the entrenchment of a pattern of cult killings and blood letting that's unique.
"And over a three year period, 2010, 2011, and 2013, tens of people were killed in stampede in front of the offices and residence of the Saraki. Even the Offa "robbery" where 33 people died was far more like their pattern of ritual killings than robbery!
"How much money do they have in Offa banks that 33 people had to be killed? These are questions people ask in Kwara. Hopefully the incredibly arrogant Bukola Saraki, whose family has no Asali whatsoever, has finally arrived at a denouement! Nothing lasts forever; not a kleptocratic hegemony; not an oppressive domination of a state by a family, which really isn't even from our state!" Kawu said.
He further declared that Saraki is not from Kwara State.
"That's why he doesn't share the values of our community; looks down at our people and carries himself with so much contempt!' Mr Kawu said. 'Even his names tell anyone who knows Ilorin that this is an "alien" individual. His full names are OLUBUKOLA OLABOWALE ADEBISI (sic)."
"These are not names an Ilorin person would normally be called. And he didn't have a Muslim name until he wanted to run for governor in 2002-2003! They first named him Muktar after his grandfather and that was then dropped for Abubakar, the name his father was also "borrowed" in Ilorin. These are the facts!" Kawu said.
However, some members of the WhatsApp group challenged Kawu for his comments.
"We should not allow politics to becloud our judgments and hence destroy all the principles we claim to stand for," one of them, Zainab Okino said.
"We cannot build or grow a nation, when we remain stuck in the past; that one is not qualified for this or that because he's not from so so state."
"Instead we should work towards being citizens of one nation identified only by residency, without labelling or profiling. This is an ideal which I thought Modibbo espoused.
"How will he feel if Kwara people also disclaim him, having traced his origin to Wurno in Kebbi or may even be farther to Futa Jalon in Guinea, Senegal or Mali.
"We all come from somewhere, so it should not be a yardstick to assess individuals, even if they do not represent what we stand for," Ms Okino added.