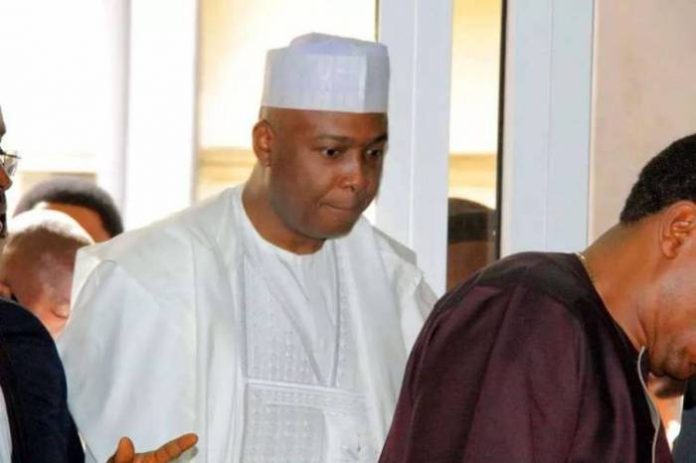 An Ilorin, Kwara State Magistrates Court on Thursday struck out a suit against a 37-year-old teacher, Abiodun Baba, accused of defaming Senate President, Dr. Bukola Saraki.
Baba was arraigned before Magistrate Ahmed Dasuki for posting on his Facebook account, messages that disparaged and defamed Saraki.
According to the complainant, Alhaji Jimoh Adesina, Chairman, Kwara North Senatorial District of the All Progressives Congress, APC, the accused engraved the on his Facebook wall materials that were harmful to the image of Saraki.
The complainant also accused Baba of inciting disturbance, disturbance of public peace and injurious falsehood posts on Facebook.
The offences, he said, were contrary to sections 113, 114, 393, 394 of the Penal Code of Northern Nigeria and section 883 and 204 of the Criminal Code Act.
Sikiru Solagberu, lawyer to the complainant, moved an oral application to withdraw the case against the accused.
Solagberu said the decision followed appeals and intervention by prominent citizens in the state and the Ilorin Traditional Council.
The Magistrate, Ahmed Dasuki, in his ruling held that the reasons adduced by the complainant were weighty enough and did not require any application or affidavit in support.
Dasuki said the reasons given by the complainant to withdraw the case were also genuine and therefore granted the prayers of the complainant.
He advised the accused to henceforth be of good conduct.
AD:
To get thousands of free final year project topics and materials sorted by subject to help with your research
[click here]