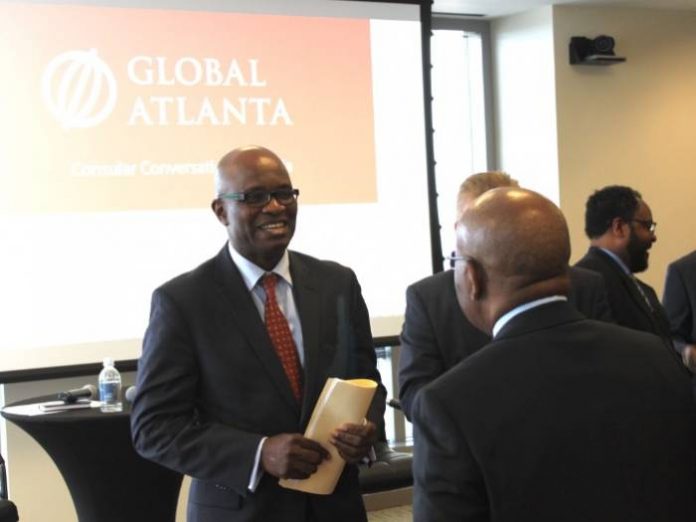 Nigeria is not a beggarly country but an important stakeholder on the international stage, Mr Kayode Laro, the Nigeria's Consul-General in Atlanta said.
Laro told the Correspondent of the News Agency of Nigeria (NAN) following the recognition of some Nigerians in the U.S. who were recognised for contributing to strengthening healthcare in Nigeria.
The awardees were Dr Ezekiel Macham of Zumunta Association, Emelia Orubele of Nigerian Chamber of Commerce, and Dr Segun Ajayi of Hospitals for Humanity.
The others were Ms Vivian Shaku of House of Globalisation and Dr Charmaine Emelife of Association of Nigerian Physicians in the Americas.
They were recognised by MedShare, a U.S.-based non-profit organisation that had donated more than 40 million dollars worth of new medical supplies and biomedical equipment to strengthen Nigeria's healthcare.
According to the envoy, Nigeria has been a major partner in mutually-benefiting relationships with notable international partners.
Laro said: "It's important to let the general public know that we are not coming to MedShare as beggars, we are not. This is not beggarly thing.
"This is not a case of we coming cap in hand to beg for it (medical supplies and equipment); it's not that at all.
"It's a mutually-beneficial relationship between MedShare and the different stakeholders and partners in Nigeria".
The Nigerian envoy said MedShare attached so much importance to its partnership with Nigeria adding, the Consulate greatly values the relation with MedShare.
He commended the awardees for always doing Nigeria proud, saying it is a rare thing when you have such event and every award recipient was present.
One of the awardees, Vivian Shaku, said her organisation was currently shipping two containers of medical supplies and equipment worth 600,000 dollars to Port Harcourt and Abuja.
Shaku said: "We are donating the equipment to charity in Nigeria, we're giving hospitals that support less-privileged back home; some of the hospitals don't have these equipment.
"I visited a clinic in Abuja and the clinic had to send some laboratory tests to South Africa. So this is just some of the support we can give to assist".
Macham, whose Zumunta Association is umbrella body for all Northern Nigeria groups in the U.S., said they embark on medical and humanitarian outreaches to the region annually, including offering scholarships.
"We have many Nigerian professional groups in America like the doctors, nurses, lawyers, that contribute to the development of our country in all aspects, including offering our services to government".
Orubele, stressed the need for properly trained health personnel to handle patients and equipment, saying international standards in healthcare delivery is a must if we want to save lives in Nigeria.
"International standards must be enforced in order for our lives to be saved and henceforth, decreasing medical tourism outside of Nigeria for only those who can afford it," she said.
Ms Nell Diallo, MedShare Vice-President International Development, said Nigeria had sponsored hundreds of medical containers to support primary care, maternal childcare and biomedical support in Nigeria, out of 1,500 shipped to countries.
Diallo said: "Over 50 per cent was sponsored by Nigerians, meaning organisations like State Governments, the diaspora as well as the Catholic and all the faith-based institutions in Nigeria.
"We have had great partnerships with officials in Nigeria, including 17 of the 30 states have recipient hospitals where we shipped to".
She said there were well-organised Nigerian associations all across the U.S., collaborating with MedShare to raise funds to ship medical supplies to under-served populations and institutions that needed support.
AD:
To get thousands of free final year project topics and materials sorted by subject to help with your research
[click here]