Manchester City banned from Champions League for two seasons
Manchester City has been banned from the Champions League for the next two seasons for "serious breaches" of UEFA's financial fair play regulations.
The Premier League champions will be barred from competing in UEFA club competitions and fined €30m (£24.9m), European football's governing body has announced.
UEFA said Manchester City had overstated sponsorship revenue in accounts submitted between 2012 and 2016, and had "failed to co-operate" in the investigation.
In a statement, the club said it was "disappointed but not surprised".
"In December 2018, the UEFA chief investigator publicly previewed the outcome and sanction he intended to be delivered to Manchester City, before any investigation had even begun," it said.
"The subsequent flawed and consistently leaked UEFA process he oversaw has meant that there was little doubt in the result that he would deliver."
The club added: "Simply put, this is a case initiated by UEFA, prosecuted by UEFA and judged by UEFA."
Manchester City is set to appeal to the Court of Arbitration for Sport (CAS) against the decision.
"With this prejudicial process now over, the club will pursue an impartial judgement as quickly as possible and will therefore, in the first instance, commence proceedings with the Court of Arbitration for Sport at the earliest opportunity," it said.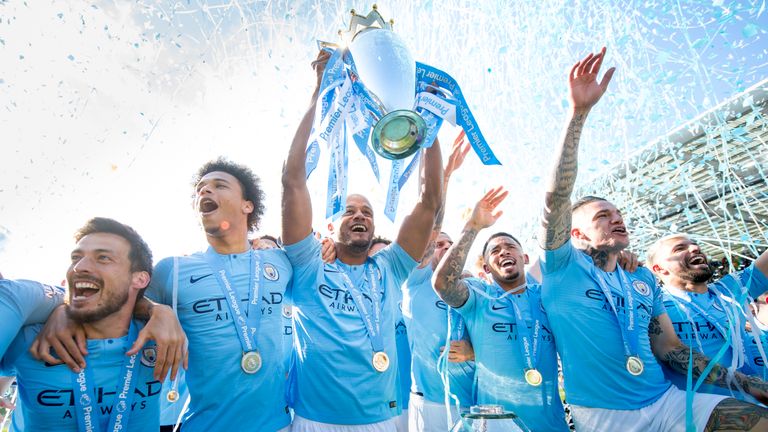 City are due to face Real Madrid in the final 16 of this season's Champions League, with the first leg of that tie to be played on 26 February at the Bernabeu.
If the English side's appeal is unsuccessful, the club will not compete in the competition again until the 2022/23 campaign.
Sky Sports News presenter Nick Powell says the punishment is "huge" and will have serious implications for the club.
"Most of the football world is taken aback by the punishment," he said.
"Forget the [£24.9m] – that is piffling for a club of Manchester City's size in relative terms.
"But a two-year ban from the Champions League is very serious indeed, particularly for a club whose main ambition at the moment is to win the Champions League."
UEFA launched an investigation into the Premier League champions in March last year following allegations in German newspaper Der Spiegel.
The governing body's regulations state a club's outgoings must not be much higher than its incomings.
Der Spiegel alleged that Manchester City had been cheating the rules by injecting millions of pounds from its owner Sheikh Mansour into the club via UAE sponsors.
Experts said a number of the sponsorship deals were around three times more profitable than they were actually worth.
Manchester City has maintained that the allegations are "entirely false".