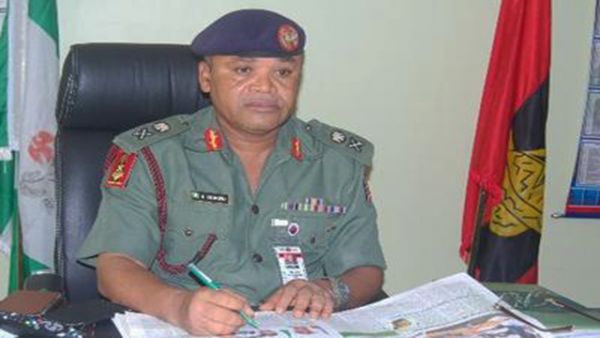 The Nigerian Army, on Wednesday, denied reports alleging that soldiers deployed on Exercise AYEM AKPATUMA beat up a 27-year-old man, Yusuf Haruna to death at Mbanga in Sardauna Local Government Area of Taraba State.
A statement from Army Spokesman, Brig. General Texas Chukwu said, the allegation is misleading and untrue.
"The Nigerian Army wishes to put the record straight to avoid misinforming the general public.
"Contrary to this allegation, the deceased was a notorious youth who lived in Mbara quarters of Mbanga community. He was known to be engaging in all forms of criminal activities. He was apprehended by troops deployed on Exercise AYEM AKPATUMA and while making efforts to hand him over to the police for questioning, he however, escaped from custody.
"The soldiers were later informed that he died at the Family Health Care Hospital Mbanga.
"The deceased was not beaten nor tortured as reported by some section of the media. The deceased was said to be an epileptic patient according to a source from the Family Health Care Hospital Management.
"The Nigerian Army wishes to caution the media to always cross checked their fact before rushing to the press and be objective in their reportage of security related issues.
"Furthermore, the general public is advised to report suspected movements in their areas to the nearest security agency for prompt action," the statement said.