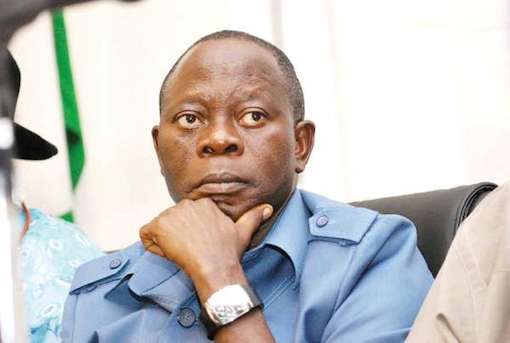 The Governor of Ebonyi state, Chief David Umahi on Sunday stated that the request of the National Chairman of the ruling All Progressives Congress, APC, Comrade Adams Oshiomhole, demanding him (Umahi) to render an apology is not only childish but pure blackmail aimed at scoring public sympathy.
Oshiomhole had on Saturday called on Umahi to tender apology to APC faithful for allegedly denying them use of the state stadium for their rally which later took place at Presco Junction, near Offia Nwali flyover, Abakaliki, Ebonyi state.
Umahi reacted in a statement signed by his Chief Press Secretary, Mr Emma Uzor, and made available to DAILY POST, accusing Oshiomhole of not showing respect to a sitting governor.
"The statement credited to the National Chairman of All Progressives Congress, APC, Comrade Adams Oshiomole requesting Governor David Umahi to render apology for allegedly refusing the faction of the party in the state to use the state Stadium for their rally, is not just childish but pure blackmail aimed at scoring public sympathy.
"The statement is baseless and one of the propaganda of the APC who has lost touch with the masses especially in Ebonyi state.
"It is very shameful for Adams Oshiomole to have made the statement credited to him while in the state. He has not disappointed Nigerians on his usual naked dance when he said Governor Umahi denied a faction of his party usage of the PA Ngele Oruta International Stadium which is undergoing reconstruction.
"It became more childish for the National party chairman who had earlier called Governor Umahi on phone and informed him of his coming to the State to have made such ridiculous statement whereas he was aware of the decision of a faction of his party to shift the date for the rally to 11th August.
"Oshiomole and Umahi have shared great friendship before this rally and as a sitting Governor, Umahi while in Edo state to conduct Governorship primary election of PDP in 2014 did not only pay a courtesy call on Oshiomole but had personal interaction as brothers despite their differences in political association, this is a pure example of political maturity exhibited by Umahi which APC lacks.
"One would have expected Oshiomole as a senior comrade to show respect to a sitting Governor if he was not hypocritical in his alleged relationship and tolerance for opposition but he decided to fly into Abakaliki, enjoyed the ambience of a serene environment and drove round a beautiful city with the best road network in the country and then mounted the podium and started spewing his usual political blackmail which he has been known for.
"More worrisome is his visible silence over the factions in his party in the state and his inability to fuse the divided party into one but has descended so low to demand apology from a sitting Governor over a Stadium that is under construction.
"APC has been rejected by Nigerians and Ebonyians have no reason whatsoever to identify with a political party without known direction towards betterment of the country. This is what Oshiomole should be concerned about and not waiting for apology from Governor Umahi because he will have to wait forever," the Ebonyi governor stated.
Umahi maintained that the APC, through its national chairman, owe Nigerians an apology for misleading the masses and destroying the country.