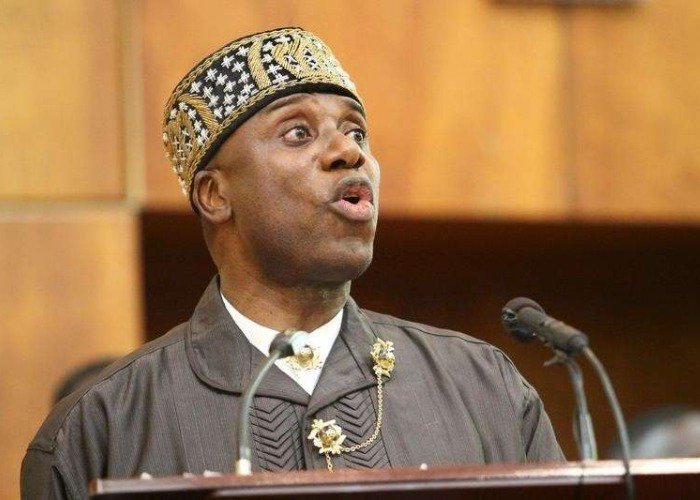 Rotimi Amaechi, Minister of Transportation, has revealed how Nigerian politicians "commit manslaughter."
Amaechi, a former governor of Rivers State said politicians commit manslaughter through corrupt practice, a menace which he said the President Muhammadu Buhari-led government was determined to end.
Speaking with Vanguard, the Minister, however, noted that all Nigerians should have access to the country's treasury and not a few who loot it.
He said some politicians loot money meant for the building of hospitals and good roads, thereby causing the death of Nigerians.
He said, "If I steal, maybe a $100,000 from my ministry and give to you, you will say 'oh, Amaechi is the most generous minister' but you didn't ask me where I got it from.
"Now, you go home and give $50,000 to your wife and she takes $20,000 and gives to her mother, her mother goes to the market buys egusi and the woman she bought egusi from pays school fees, the person he pays school fees repairs his door, the carpenter that fixes the door, takes money to buy uniform for his child, the tailor that sews the uniform pays for a burial.
"You see how the economy runs and that is the economy of Nigeria and we are saying it just cannot continue, the economy has to be productive; that is what the president is saying. If you want to have access to the national economy, to the national treasury, then everybody should have that access, it should not be where only few of us who have access to it should loot the economy of Nigeria.
"How do we politicians kill by accident? The money that is meant for the people and earmarked to be used for building hospitals, you take it for your private use and the hospitals are not built and so Nigerians go to hospitals where there are no drugs and they die without knowing it. For me, you have committed manslaughter and the problem for me is that Nigerians don't hold us accountable!